I just love 'The Last Kingdom' and I've had fun looking into aspects of the show. I found this interesting article from The Guardian interviewing the star Alexander Dreymon here: http://www.theguardian.com/tv-and-radio/tvandradioblog/2015/nov/19/the-last-kingdom-alexander-dreymon-interview
I chose his most interesting answers to repost here.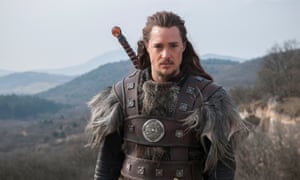 Q: What appealed most to you about the part of Uhtred?
A: He's not perfect. He's charming, but he's got flaws. I like his cheekiness and the fact that he gets himself into really messed-up situations.
"He's impulsive, and that's fun to play – even when he's faced with a life-or-death situation, he still wants to mess around."
Q: As the series has progressed, the relationship between Uhtred and Alfred has come more to the fore …
A: Yeah, and it's been great fun working with David Dawson [who plays Alfred]. He's such a solid actor.
"I see the relationship between Uhtred and Alfred as a love story. It's full of a mutual admiration but also hatred and it never stays on the same level."
Q: What about Uhtred's man bun? They're quite fashionable in certain circles right now – were you tempted to keep it?
A: [Laughs] Listen, before I did this series, my girlfriend would go to the bathroom and I'd spend all this time sitting outside, like the black hole of time, thinking, 'What the fuck is happening in there?'
"Since I've had this hairstyle for The Last Kingdom, I now know exactly what's happening in the bathroom, and I have so much respect for people who have to spend that time on their hair every day."
Q: Grazia magazine called you the new Poldark after seeing Uhtred emerge naked from the lake – are you OK with that?
A: Well, you know, I feel very passionate about the show, and if that's going to help people get into watching, then I'm fine with it. On a personal level, I don't exactly thrive on the idea of being known as the guy who goes topless – because I also took my shirt off on American Horror Story: Coven – but I think in The Last Kingdom it's mainly done in the right way.
"I'll tell you what though, I wasn't comfortable with the first time when Tom [Taylor] was pushed into the water as a little boy and then I came out, but the other scenes have been done with humour, and it's not just about me standing there naked."
The Last Kingdom is on BBC2 on Thursday at 9pm